The Well Inside: The Abayudaya Jewish Community
Jewish culture
By Angela Gluck
14th May 2020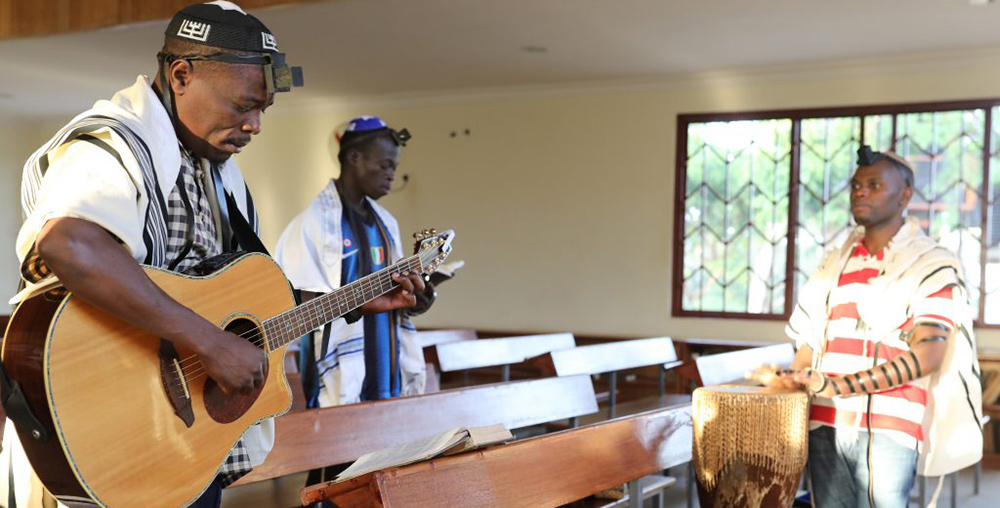 Seven pairs of dancing feet. Seven beaming smiles from ear to ear. Seven pairs of lungs, singing praises to God. Seven heads of hair dripping wet.
I have the huge honour of teaching on New London's L'Hayim programme and the precious privilege of accompanying inspirational people on their journey as they join the Jewish people.
But now I was on a Jewish Journey of another kind, with a small group visiting the Jews of Uganda who mostly live in villages near the town of Mbale. On Nabugoye Hill-which Moshe their youth leader calls the 'Abayudaya Headquarters'-the cluster of buildings includes the relatively new Stern Synagogue (and, for the rainy season, a social hall), the yeshiva, the rabbi's home and the guest house.
To coincide with the visit of UK Masorti Rabbi Chaim Weiner, Uganda's Rabbi Gershom Sizomu scheduled a Bet Din to formalise conversions to Judaism. Evidently, the process went smoothly: there were seven more Jews in the world and the 'Mayim Hayyim'-living water-needed for a mikveh was the nearby river. The men were witnessed by Rabbi Weiner and the women by Yonit, a vibrant, learned and committed member of the congregation. As they emerged, I jumped to my feet with joy to greet them with 'Hevenu Shalom Aleichem!', and the strumming and the drumming started.
I'd already seen those seven 'new Jews' on Shabbat during the services and over meals, and would never have guessed that they weren't already Jewish-such was their obvious level of knowledge, their degree of engagement with prayer and learning, their ease and comfort with Jewish law and custom, and their palpable love of all things Jewish-up to and including their Biblical and even Israeli names.
The truth is that, in many ways, they'd been emotionally and spiritually Jewish for a long time, perhaps even all their lives. It had been under the rule of Idi Amin that practising Judaism was outlawed-especially following the 1976 incident at Entebbe-and many of the community went 'underground' or converted to Christianity or Islam. After Amin's deposition, it's become possible to live Jewishly in a proud and open way. Since 1979, the number of conscious and committed Jews has risen from 300 to the 2000+ that there are now, in the year that marks the centenary of the Abayudaya, the People of Judah.
Uganda's rabbi- Gershom Sizomu-is Africa's only rabbi apart from in the extremes of North and South. He studied in the Ziegler School of Rabbinic Studies, Los Angeles, and was ordained in 2008. His father and grandfather both served as the congregation's spiritual leader and were addressed as 'Rabbi', though they had not been ordained by a rabbinical body recognised elsewhere. It was assumed that Gershom would follow suit and his first name in his birth certificate is actually registered as 'Rabbi'! Ironically, the only place where his first name is not given as 'Rabbi' is on his rabbinic ordination certificate!
Rabbi Gershom described the culture shock that he, his wife and children experienced when arriving in Los Angeles for his rabbinic course and first settling into their accommodation: they were struck by the fact that the water well and the kitchen were inside! Hearing that made me chuckle-as he must surely know it would-but, through reflecting on it, I came to see it as emblematic.
It's a challenge to our perceptions of Jewish culture. We don't usually think about it but '¦ you can be Jewish and not have H & C running water, or not wear shoes all the time, or make clothes from kitenge (vivid, wax-resist-printed textiles), or eat steamed matoke (a non-sweet starchy kind of banana) with peanut sauce. Judaism is not bagels: it's how you think, it's what you believe, it's who you belong to. The Abayudaya are firmly and proudly African Jews.
So the typically 'Anglo' Ashkenazi Torah covers, bimah cloth and Ark curtain in the synagogue surprised me. The maroon velveteen fabric, with goldish tassels and embroidery, seemed straight out of 1950s north-west London. I was rude enough to ask about this. Well, they'd been donated, sent from the USA and they wanted to be like American Jews in some ways…
And then came Kabbalat Shabbat, where the music was unequivocally African-Jewish: drums and strings; soft-shoe shuffle in front of the Ark (especially by young boys with a strong sense of rhythm); some prayers in Hebrew, some in Lugandan and some both; and distinctive tunes, some adapted Ugandan melodies, some special compositions and some tunes that I recognised, but with harmonies that must surely knock on heaven's door. The sense of delight was overwhelming.
But what impressed me most about the Abayudaya was their balance of the particular and the universal, their closeness as a community plus their openness to non-Jewish communities. The social institutions that they've initiated and now manage are available to all, which means to neighbouring Christians and Muslims. The clinic—Sha'arei Refu'ah, Hebrew for 'Gates of Healing'—is for everyone, and part of its invaluable work involves testing for malaria and typhoid fever, diseases that are often confused. Likewise, the 'Delicious Peace' collective for coffee growers is a truly interfaith concern. JJ Keki, the Abayudaya member whose inspiration it was and who is an utter inspiration to meet, says: "Our coffee must teach the world that even if you have differences in religion or culture, you can still be good friends."
Friendship and collegiality were in abundance in the schools, too, amongst pupils and staff alike. The Hadassah Primary School was in the throes of pupil elections when we arrived and the hustings under a big tree were impressively dynamic and ambitious: "If you vote for me as your food monitor, I promise to make sure that lunch will be…" and "Please choose me as your football captain and I will help us to win…" I was intrigued by this process and asked the teacher, who was doing his best to control the children's excitement and conduct the elections in an orderly and balanced way. "It's education for democracy," he told me. "But Uganda has a dictatorship," I said, probably sounding puzzled. "Exactly!" he exclaimed.
Conditions at Hadassah were basic and welfare was in the hands of Matron. It seems that this primary school is supported financially by Kulanu ('all of us') in the USA. So I was not prepared for the conditions in the 745-pupil High School, named for the Abayudaya founder Semei Kakungulu. It is not supported by Kulanu—or any other body, it seems—and the state of the premises and the quality of resources tell you that it's clearly struggling financially. The science lab has no equipment or materials so practical lessons—the essence of science education—cannot be taught. The school doesn't have funds to provide breakfast or lunch and most families can't afford it, so the teenagers attempt to study all day on empty stomachs. For the boarders, the only showers are in the open, outside, with no privacy. But it was the Deputy Head—a Muslim, a man—who explained the lower attendance figures for girls with a poignant piece of information: they miss about a week each month because they cannot afford menstrual pads. That hit me hard. It's one thing to know that this happens; it's quite another to realise that a teenage girl you're talking to will miss 25% of her educational opportunities.
I taught a little. I learned a lot. There are few resources but much resourcefulness. I saw poverty of one kind and wealth of another. Now I must rethink what it means to be rich and what it means to be Jewish. Judaism is alive and kicking on Nabugoye Hill. It is held in the hands and in the head and in the heart.
They definitely have a well inside.
Angela Gluck is a member of New London Synagogue