Beyond Dispute: Debates that Shape Jewish Life with New North London Synagogue
Date: 6th July 2021, 8.15 - 9.30pm
Location: Online
Price: Voluntary Donation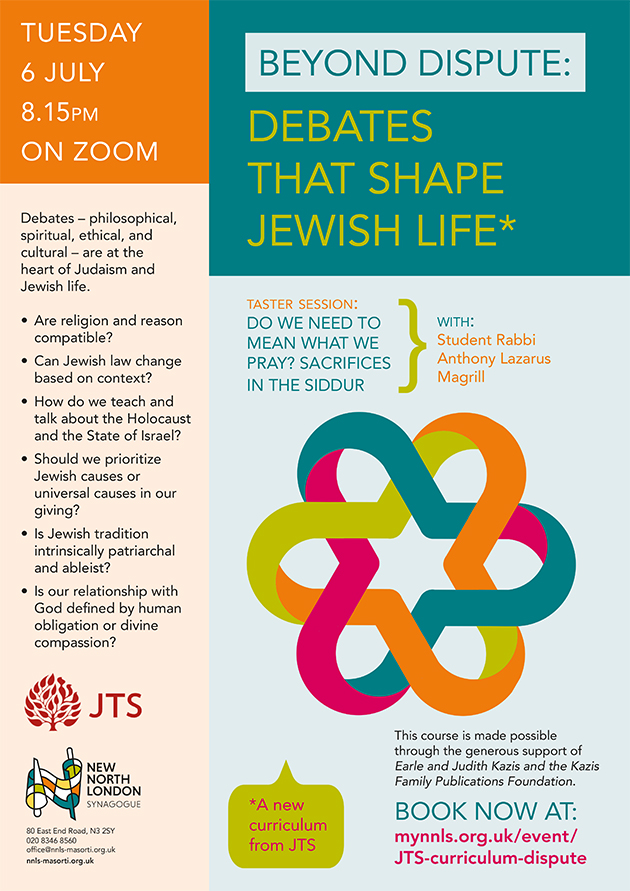 Beyond Dispute: Debates that Shape Jewish Life is a new curriculum from JTS – join us for this taster session: Do we need to mean what we pray? Sacrifices in the Siddur with Student Rabbi Anthony Lazarus Magrill. We plan to offer the full course in the next academic year.
Debates – philosophical, spiritual, ethical, and cultural – are at the heart of Judaism and Jewish life.
Are religion and reason compatible?
Can Jewish law change based on context?
How do we teach and talk about the Holocaust and the State of Israel?
Should we prioritize Jewish causes or universal causes in our giving?
Is Jewish tradition intrinsically patriarchal and ableist?
Is our relationship with God defined by human obligation or divine compassion?