Not Your Average Day Job
Jewish culture
By Masorti Judaism
16th Nov 2017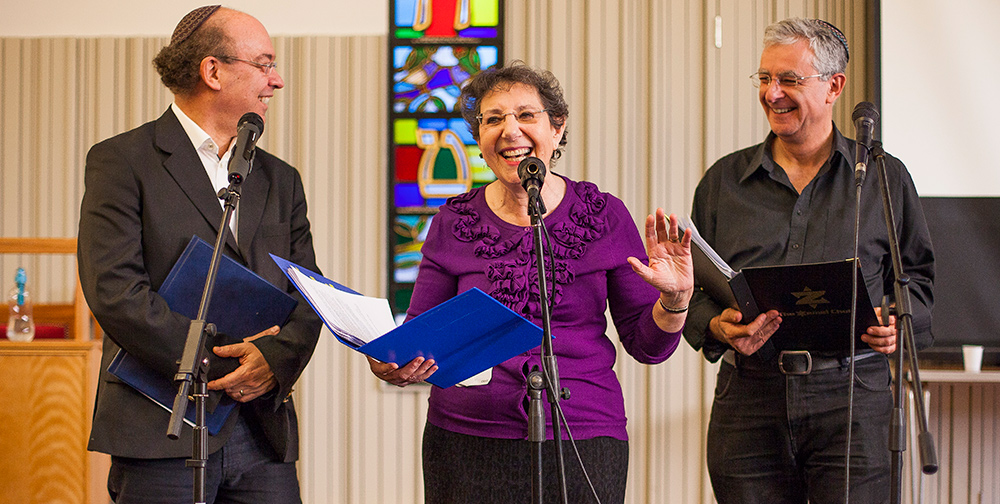 Zahavit Shalev and Natasha Mann are Masorti Judaism's two rabbinic students. They will add to a growing pool of female rabbis within the Masorti movement, and are already contributing to the community in a huge number of ways, from teaching, to running a conversion programme, to working with Noam.
Zahavit grew up in an Orthodox religious family and received a thorough Jewish education, spending a year at Brovenders (Midreshet Lindenbaum) Seminary. Although she may not have anticipated that she was destined to become a rabbi, she maintains that she was a feminist from birth, having received negative attention for being intellectual, argumentative and ambitious – traits that would be applauded had she been a boy. Following some occasional ideological meltdowns as a Cambridge University student, Zahavit began to find a new approach to Judaism through her involvement with Limmud and the New North London Synagogue (NNLS) Assif minyan.
In comparison, not only did Natasha not know anyone Jewish until she was
a teenager, she did not even identify as a Jew until she was in her mid-teens. After finding out about some Jewish ancestry, she began to read ferociously about Judaism.
Inspired by the religion's commitment to asking big questions, she began to travel to New London Synagogue (NLS) and was welcomed by the community and by Rabbi Jeremy Gordon. During Natasha's time as a student at Heythrop College, University of London, she underwent a conversion and took on a leadership position within the student community.
Both women took up teaching roles due to their strong intellectual curiosity. Zahavit began working with individual students who were going through the conversion process, and Natasha was involved in all aspects of education at New London Synagogue. For both of them, teaching became a source of happiness and spiritual nourishment.
Natasha says that it was obvious to everyone around her that she was on the path to being a rabbi, and the more she taught, the more she realised her calling. Zahavit had been part of a search for a rabbinic assistant at NNLS. When the initial candidate left the role after a short period, Zahavit had a conversation with Rabbi Jonathan Wittenberg about taking the position. She decided that if she was going to have the role of rabbinic assistant then she wanted the rabbinic training to go alongside it.
Natasha is a student at the Ziegler Rabbinical School in LA and Zahavit is at Leo Baeck College. Both institutions provide a robust curriculum that includes traditional text learning and classes that prepare students for the pulpit.
A trainee rabbi's day does not end once school finishes. Both Natasha and Zahavit combine their studies with professional duties in the Jewish community. This means that there are often a lot of responsibilities to juggle and perhaps not always enough hours in the day.
There is a famous line in BBC sitcom The Vicar of Dibley when Dawn French meets her new congregation. One of the villagers looks at her and says, "You do not look like a vicar". Has this also been the case for Natasha and Zahavit?
Natasha agrees. "I find that I often 'don't look like a rabbi' to people," she says. However, she combats this with a philosophy of not judging anyone on how they initially react to her until she has taught them some Torah. "You might be surprised by how many people can get over that initial discomfort once they've heard you teach," she says.
Zahavit talks of learning a lesson when visiting a congregation who commentated that her "tallit was longer than her dress". She is aware that for better or worse, as a rabbi, people pick up on what you wear.
Both Natasha and Zahavit see entering the rabbinate as women to be both an opportunity and a responsibility. There is the possibility of creating a precedent, so that the next generation of Masorti congregants see a female rabbi as a normal part of synagogue life. Natasha says: "Ours is the generation in Masorti Judaism which will provide the next generation with female rabbinic role models. That's a pretty wonderful opportunity that I don't plan to take lightly."
For Zahavit it is a chance to affirm the concept of Kol Isha (a woman's voice) in Jewish life. One of her favourite aspects of her role is using her musical talents to lead services which facilitate the community coming together. To an extent this is a tikkun (repair) for the services she attended in her previous community where, as a woman, she could not use her singing voice in prayer on the basis that it could be deemed provocative.
Whilst Natasha and Zahavit started their Jewish journeys at very different places, what they will bring to communities is remarkably similar: a passion for Torah, for Judaism in the modern world, and for helping Jews to connect with their tradition. It is significant that the journey to the rabbinate for both women was a progression of their pre-existing roles within their communities. Both credit their rabbis for supporting them in taking this step forward.
It seems that for both it has been an organic process, reflective of a desire for the Masorti Movement to continue to balance tradition, innovation
and equality.