It's just over a week until Havdalah at Home, the launch of Masorti Judaism's fundraising campaign for 2022.
Jewish life is changing. The pandemic has been a real crisis for our communities, but in many ways, it has simply accelerated changes that were already happening. People's priorities have changed and their connection with Judaism is less certain than it once was.
This is especially true for young people and we are at risk of losing connection with the next generation of Masorti Jews.  That's why we need to take action now.  We've launched new programmes for Noam alumni and young adults, increased training for community leaders, and invested in a new generation of student rabbis.
We urgently need our members' support to keep connecting people with Judaism and build the Jewish communities of the future. That's why this year's campaign is more important than ever.
At the same time, I'm keenly aware of massive geopolitical events: the invasion of Ukraine and the refugee crisis. Some people have asked whether it's right to be raising money for ourselves at this time.
It's clear that we have a moral obligation to respond to the crisis in Ukraine. We've encouraged our members to support appeals by Masorti Olami and World Jewish Relief to help people fleeing the fighting, we've been in talks with our partners in the Jewish community to decide on the best ways to help, and we've publicised the government's call for people to host refugees.
But this does not mean we can neglect local needs. On the contrary. Masorti communities have a proud track record of social action, from drop-in centres for destitute asylum seekers and Our Second Home, a youth movement for refugees, through interfaith soup kitchens and shelters for homeless people, to fundraising campaigns that generate hundreds of thousands of pounds for good causes here, in Israel and around the world.
We can only do good in the world if our communities are strong. And we'll only have strong communities tomorrow if we invest in our young people today. That's why as well as responding to events in Ukraine, this year more than ever, we are asking everyone to help build Masorti Jewish life in the UK.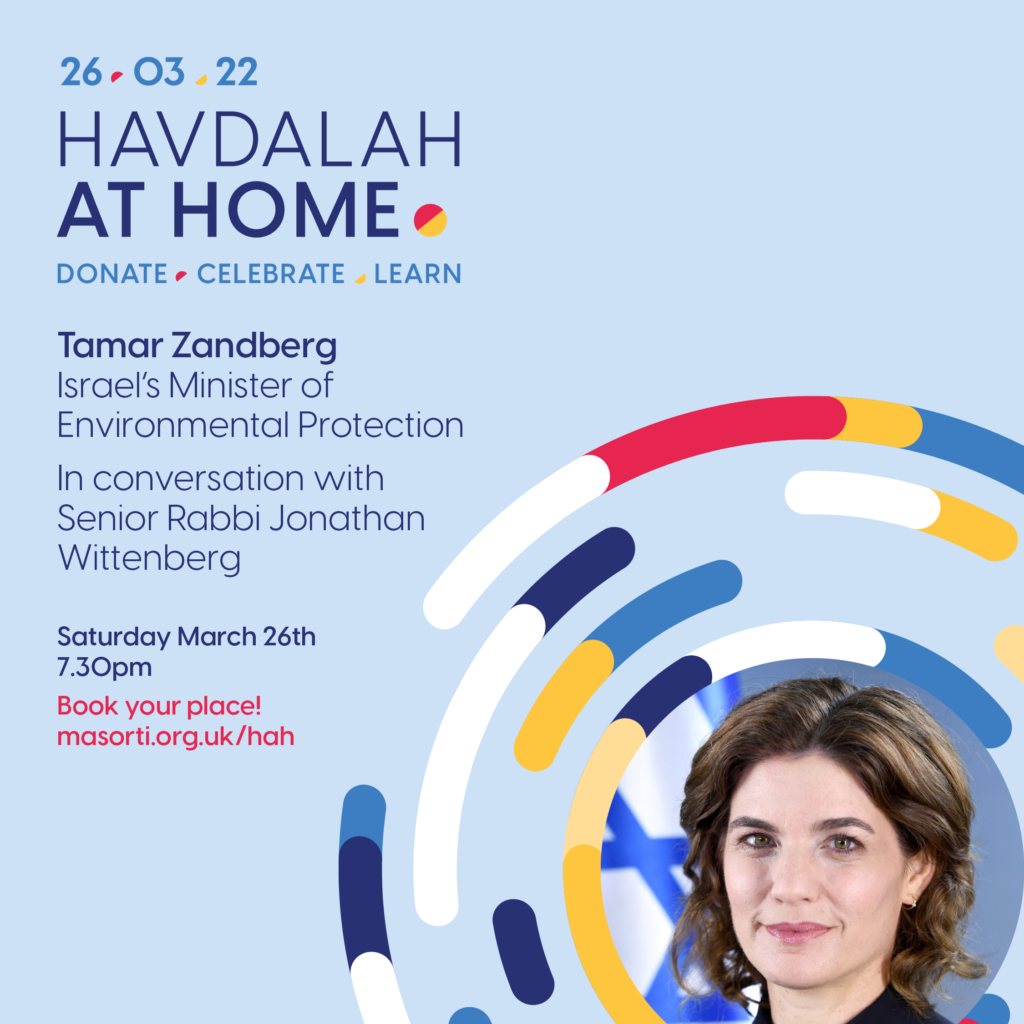 Havdalah at Home
We're very excited that we will be joined at Havdalah at Home by Tamar Zandberg, Israel's Minister of Environmental Protection. Environmental issues, religious pluralism and human rights are just a few of Minister Zandberg's noteworthy Knesset battles. Sign up to hear her discuss these and more with Rabbi Jonathan Wittenberg on Saturday March 26th.