Masorti congregations among 14 presented with awards to mark their commitment to combatting the climate emergency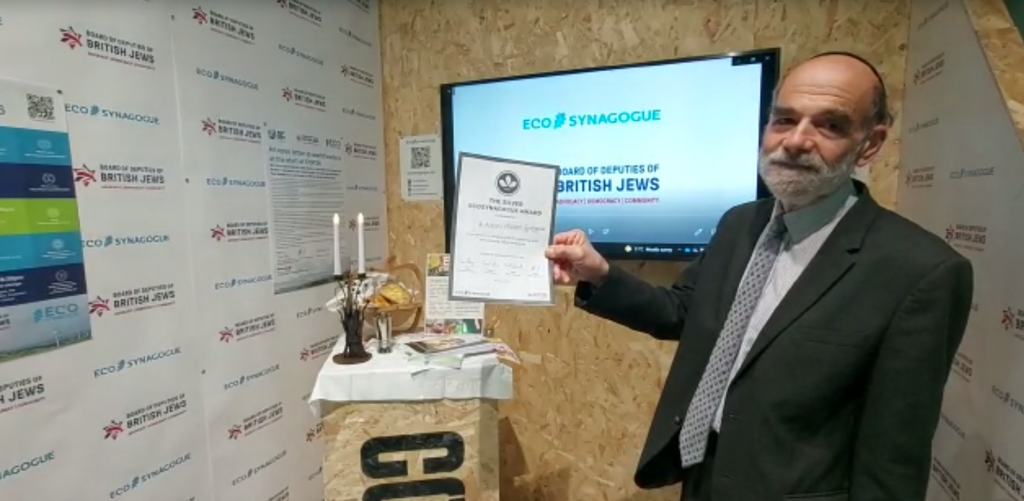 St Albans Masorti Synagogue (SAMS) and New North London Synagogue (NNLS) were among 14 Jewish communities honoured at the first ever EcoSynagogue Audit Awards.
The Awards celebrate the synagogues who are helping combat the climate emergency. To qualify, a community had to score 80% (Gold), 60% (Silver) or 40% (Bronze) in EcoSynagogue's Environmental Audit.
EcoSynagogue, a project in partnership with the Board of Deputies, spans the whole Jewish community with rabbinic leadership from four denominations of Judaism. The Audit is a free online resource that assesses a community's environmental awareness and implementation – covering management commitment, prayer and teaching, lifestyle, land, buildings, consumables and local and global engagement.
The Awards were given out – via video link from the EcoSynagogue stand in the Green Zone at COP26 – by Board of Deputies President Marie van der Zyl and the EcoSynagogue Rabbinic Team of which Senior Masorti Rabbi Jonathan Wittenberg is a founding member.
Both SAMS and NNLS earned Silver Awards – the first Masorti communities to ever do so. Other Masorti communities signed up to EcoSynagogue include Kol Nefesh Masorti Synagogue and Edgware Masorti Synagogue.
St Albans' Leonie Aigin said: "The turning point for us was a Communal Seder that was an ecological disaster. Everything, from the Seder Plate to the tablecloths, were disposable. Since that moment, despite the challenge of not owning our building, we have done as much as we can – changing electricity supplier, recycling, swapping light bulbs and modifying the way we provide Kiddush and communal meals."
New North London's Michael Wegier said: "I am honoured to accept this on behalf of the shul and we now all know we need to work towards the Gold Award!"
The EcoSynagogue Rabbinic Team said: "We are delighted and inspired by the number of communities who are now on the EcoSynagogue pathway, particularly our first 14 awardees who show what can be achieved by putting a focus on combatting the climate emergency at the heart of everything we do."
EcoSynagogue has nearly 50 communities now registered, a number which is set to grow after the success of last week's EcoShabbat. All those who are join are eligible to earn an award, which will now be presented every 6-12 months.
To find out more, and sign up, please visit www.ecosynagogue.org.