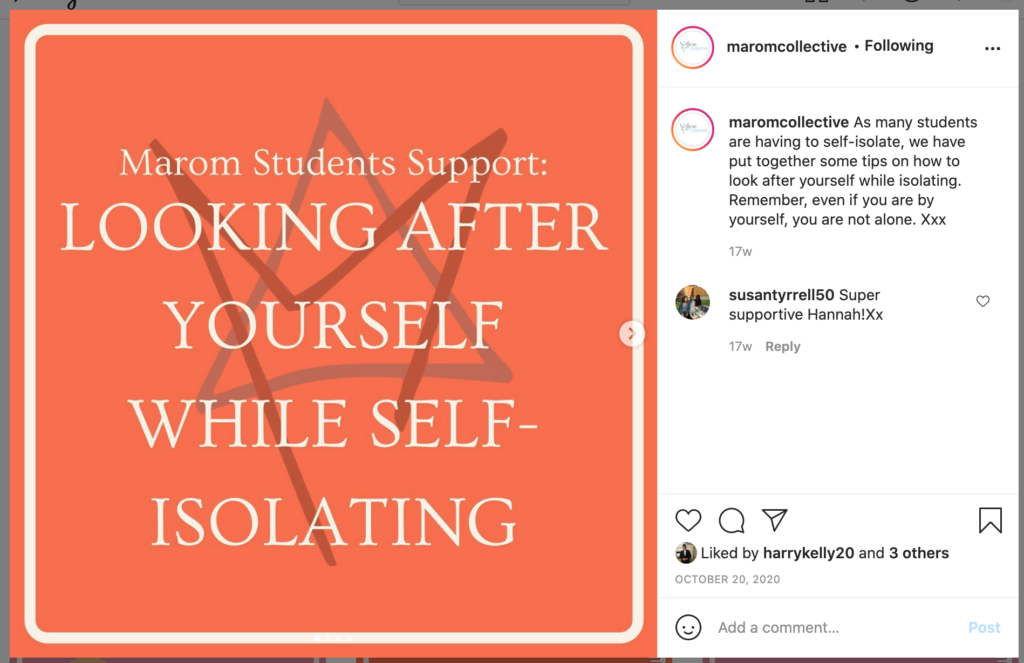 Marom is the Masorti organisation for students and young adults. We give young people opportunities to engage with meaningful Jewish life on their own terms while developing them as future leaders in both the Jewish and wider communities.
Normally most activities are run by volunteer representatives on campuses around the country. We have Marom reps on campuses in Nottingham, Oxford, Durham, Bristol, Leeds, Cambridge, Edinburgh, Birmingham and Manchester. When students were advised by the government to return to their campuses in October last year, we quickly found that this year's group of Marom reps couldn't work in the same way. We ran training for reps to explore the different options available. Activities run during the first term included online quizzes, pre-Shabbat meetings and socially distanced Shabbat walks.
However, it soon became apparent that something more was needed. We began to hear stories from students that profoundly concerned me about their isolation and difficulty accessing support. These difficulties were particularly pressing for first year students living with people they did not know before the start of the year. In response, we started creating Instagram posts addressing the lack of clarity about students' rights. We sent out care packages to fifty people across the country. These care packages included a DIY Shabbat kit and an invitation to an online kabbalat shabbat to give students a way to recreate familiar rituals in unknown spaces.
As much as we were trying our best to address the challenges facing students at this time, we felt that the issues required a more cohesive response. So, we invited Jewish organisations across the denominational spectrum to a meeting. We organised a cross-communal buddying system, linking participants with other Jewish students from their campus to make new friends and build a support network. To date, participants have included some who have been involved in Masorti Judaism, those from other denominations (including one formerly Charedi participant), students at universities spanning the length of the country and students who are shielding while studying at home.
Now that most students are studying away from their university campuses, we have put together a regular schedule of learning, welfare and social events. Primarily run by members of the Marom community, these sessions are providing opportunities for students and young adults to keep connecting with one another and their Judaism. We are incredibly proud of everything that our members, and particularly our reps, have done to support their fellow students in such difficult and different circumstances.
Hannah Arnaud, Marom fieldworker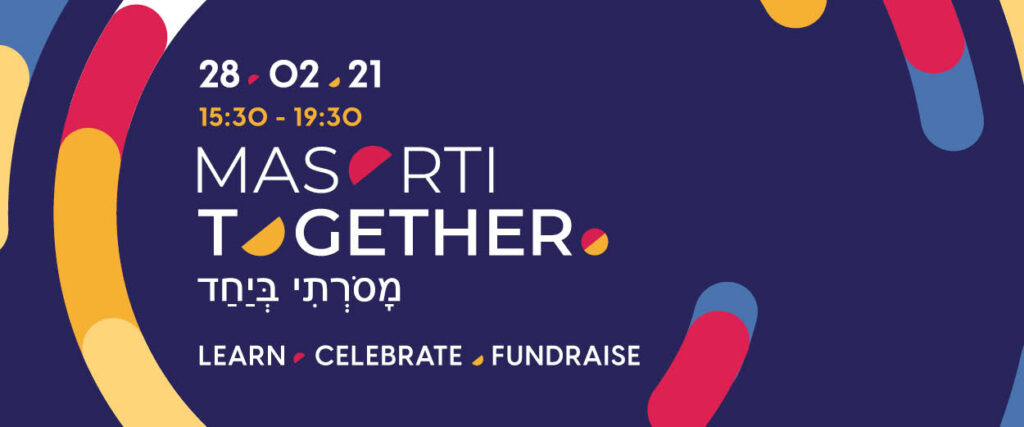 Join us at Masorti Together to celebrate Masorti's young adults. Learn how they've used their skills to contribute to wider society at 'Tikkun Olam: Noam Alumni change the world', and see what Noam's young people get up to each summer as they debate the thorniest moral and religious issues with our rabbis at our 'Rabbinic Death Match'
Learn more and get your tickets here.
If you'd like to make a donation, please click here.