Celebrate Pride Month with Masorti!
Date: June 2023
🏳️‍🌈 Happy Pride Month! 🏳️‍🌈
Throughout June (and into July), join us for a vibrant lineup of Pride Month events to bring us together and express our continued commitment to inclusion.
Whether you identify as LGBT+ or you're an ally, we invite you to engage, learn, and celebrate with us!
---
Events
Pride Parasha Class with New Stoke Newington Shul
New Stoke Newington Shul's weekly Parasha class meets on Thursday June 15th from 8pm to look at Parashat Shelach Lecha, continuing our Pride month celebrations by looking at the story of the spies through an LGBTQ+ lens. All are welcome! Please click here for the Zoom link.
---
---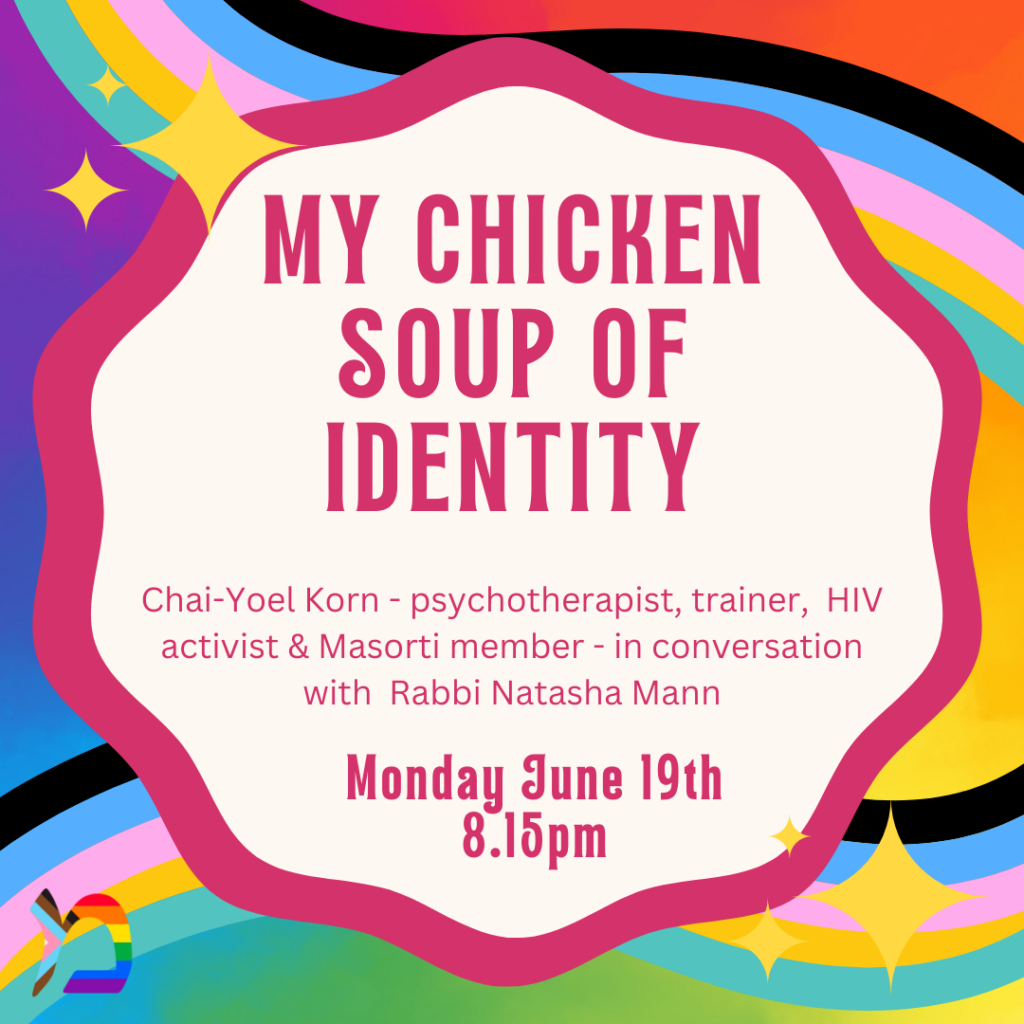 ---
My Chicken Soup of Identity
Chai-Yoel Korn – psychotherapist, trainer and activist – in conversation with Rabbi Natasha Mann about trans and non-binary experiences, intersectional identities and the meaning of an LGBT+ 'Chicken Soup Identity'
This is an open event online, welcome to all, as part of Masorti Judaism's Pride Season 2023
Chai-Yoel (gender pronouns they/them) is a body and trauma relational psychotherapist with 24+ years experience working with the LGBT+ community. Chai-Yoel is an expert speaker, trainer, and LGBT+, HIV & Hepatitis activist and ally, with a strong interest and experience of working inter-culturally. They have lived experience of disability and chronic health issues.
Their paper 'The Chicken Soup of Identity' was accepted for a book called 'Non-Binary Lives: An Anthology of Intersecting Identities', which was recommended by The Independent in both 2020 and 2021, and was a 2021 Lambda Literary Award Finalist.
Chai-Yoel is a member of New London Masorti Synagogue.
Rabbi Natasha Mann was ordained at the Ziegler School of Rabbinic Studies in 2019. She was born in Hertfordshire to a lively inter-religious and intercultural family and joined New London Synagogue by herself as a teenager.
There she fell in love with Jewish practice and ideas, and has since studied Theology at Heythrop College, learnt at Conservative Yeshiva, and worked with Atzum – Justice Works (in Jerusalem).
She now serves as a rabbi at New London Synagogue and has a deep connection with Noam Masorti Youth.
---
---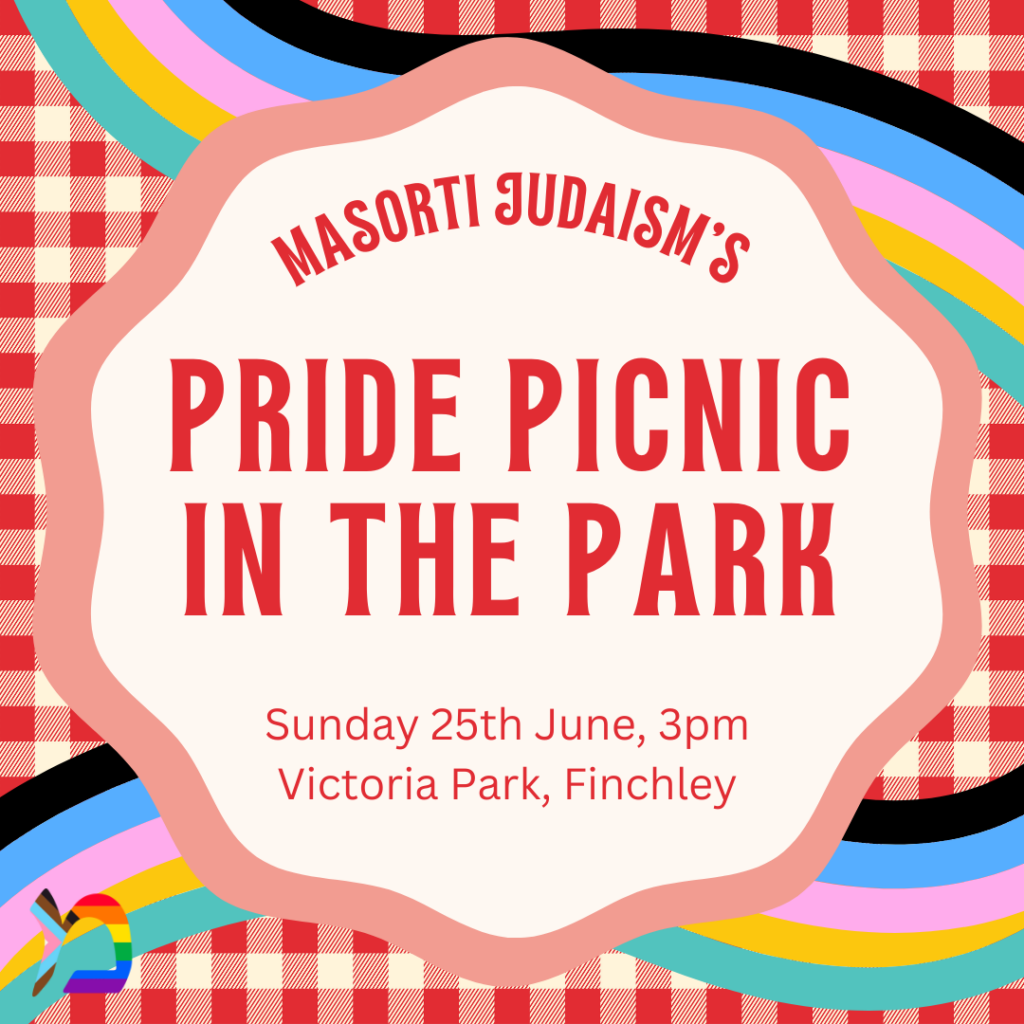 ---
Pride Picnic in the Park
Our welcoming Masorti LGBT+ Pride Picnic
Our third annual relaxed and friendly 'bring and share' picnic in the park. Always fun, always new faces, always too much food left over!
All ages and affiliations are warmly welcome to join us
We particularly welcome Jewish LGBT+ people, and friends, family members and close allies. Pets welcome too (with responsible owners, but no snakes!)
Bring your own picnic blankets, veggie and kosher nosh, drinks, decorations and prideful joy, but most importantly, bring yourself.
The Masorti LGBT+ Network is a welcoming group that meets for social events, workshops and more, celebrating LGBT+ identities in a Masorti Jewish context.
Contact Masorti Judaism's Inclusion Manager Daniella Shaw (she/her) at [email protected] for more info or to join the Network's mailing list.
---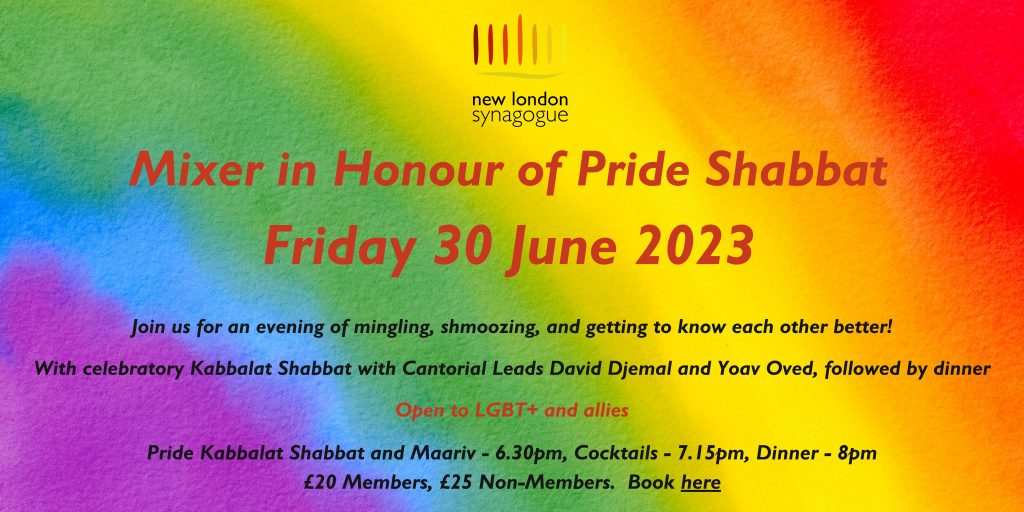 ---
Friday Night Mixer
Opportunities for LGBT+ social events where one can meet new people can be scarce, especially in a relaxed Jewish atmosphere. This Friday Night Mixer at New London Synagogue is the perfect opportunity to get to know some new people in a fun and informal setting.
Join us for a celebratory Kabbalat Shabbat in honour of Pride Shabbat, followed by a "cocktail hour" with a wide range of drinks to choose from, and a three-course meal – all for just £25!
Early Bird discount available before Tuesday 13th June.
---
Kabbalat Shabbat and Picnic in Borehamwood
Join SHEMA for a Kabbalat Shabbat Service followed by eating, drinking and schmoozing in Maxwell Park, Borehamwood. Click here for more details.
---
---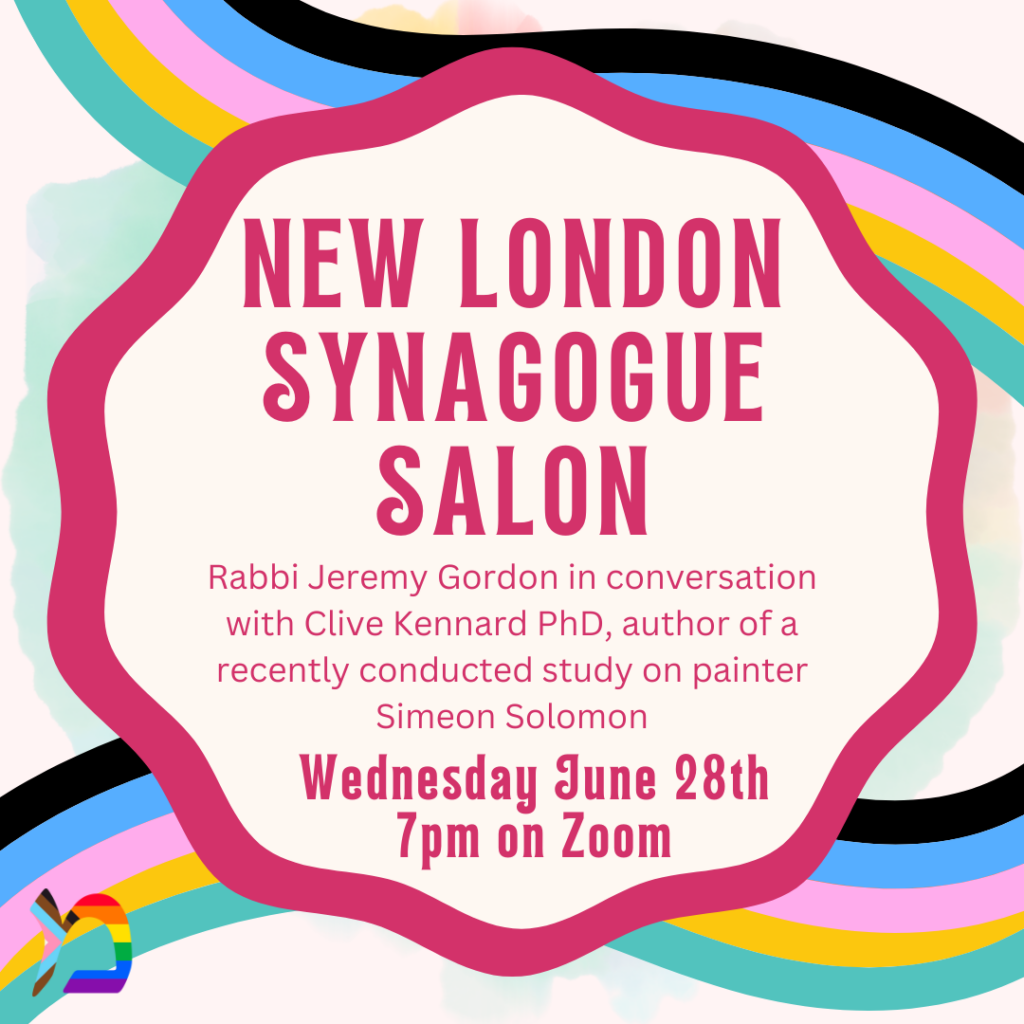 ---
New London Synagogue Salon
---
Simeon Solomon (1840-1905) was one of the most significant Jewish artists, and significant gay artists of the nineteenth century. In this Pride-adjacent salon (it's not really a pride-full story) Dr Clive Kennard will present some of the insights from his recently concluded study of Solomon's work and life.
---
---
---