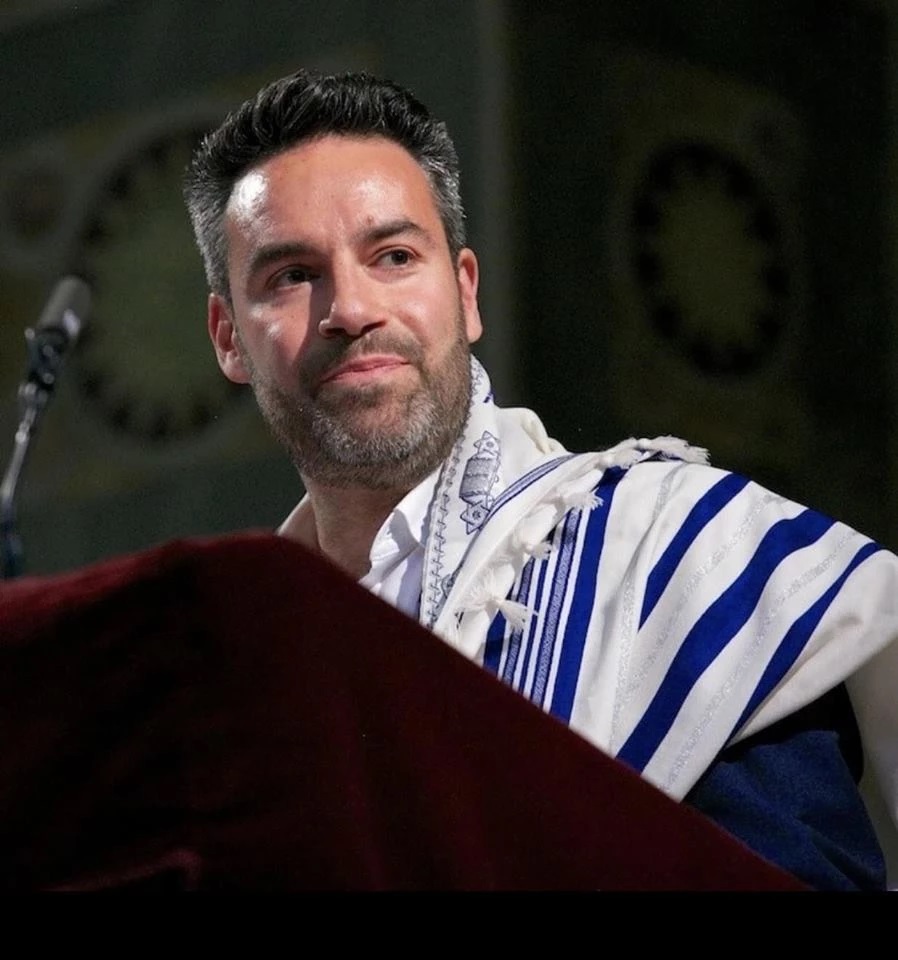 The managements of Edgware Masorti Synagogue (EMS) and Elstree and Borehamwood Masorti Community (EBMC) are delighted to announce the appointment of Rabbi Danny Newman as full time Rabbi to both communities. Rabbi Danny will share his time between the two synagogues, formalising a successful period of cooperation during which he has been serving both communities on a part time basis.
The appointment was overwhelmingly approved at virtual General Meetings of each community on 3rd February, following a series of well-attended group Zoom sessions for members to meet and question Rabbi Danny.
"Rabbi Danny is a dynamic and inspiring spiritual leader, and his appointment brings a refreshing new dimension to our kehillah. His part-time work with our community during the pandemic has already demonstrated his skills in education and pastoral care," said Sarah Nathan, Co-Chair of EMS. "This appointment seals a successful cooperation with EBMC, and we look forward to a continuing warm relationship with them in the future."
Peter Lurie, EBMC Co-Chair said: 'Our community and synagogue have worked closely with Rabbi Danny for some time and we are extremely happy that we have been able to agree a mutual relationship with Edgware Masorti and Rabbi Danny to continue to offer the wonderful services and spiritual leadership for both communities. This has been an incredibly important time for us, and we look forward to working, building and growing together.'
Rabbi Danny Newman said: "I'm delighted that both kehillot have come together to approve my appointment – and I am excited at the prospect of continuing to work with the two communities as we take the next steps in our ongoing evolution and development."
Rabbi Danny Newman grew up in Edgware and Stanmore and received semicha (rabbinic ordination) from Leo Baeck College and Rabbi Jonathan Wittenberg of New North London Synagogue, senior rabbi of the UK Masorti movement. He read Jewish Studies at Oxford University and has studied at several Israeli yeshivot. Prior to commencing his rabbinic studies, he trained in psychotherapy and worked as a corporate lawyer in the City of London. He is the founder of HaMakom, the leading British charity for Jewish mindfulness and meditation. He is married to Zippy Keller and they have a young son.
Edgware Masorti Synagogue (EMS) was founded in 1984 by ten families, and was one of the first Masorti synagogues in the UK. Its striking synagogue and community centre was opened in 1996 in central Edgware. EMS has created a community where Jewish observance and worship are conducted in an inclusive, tolerant and open environment, combining traditional Judaism with a modern understanding of religious thought and practice. The current co-chairs are David Grossman and Sarah Nathan.
Elstree & Borehamwood Community (EBMC) was founded in 2006 by five families, originally meeting in peoples' houses for services. It has since developed into a friendly, youthful and thriving community located in the heart of Borehamwood. EBMC welcomes people of all levels of observance. The vision and dream of EBMC and its leadership is to provide the best of the Masorti movement's ethos and values offering traditional services and care for all our members combined with the warmth and friendship that is so important to all of us. EBMC will be celebrating its 15th anniversary In November 2021. The current co-chairs are Peter Lurie and Steven Lux.