Masorti's Jewish Community Organising Course
Date: Beginning December 2021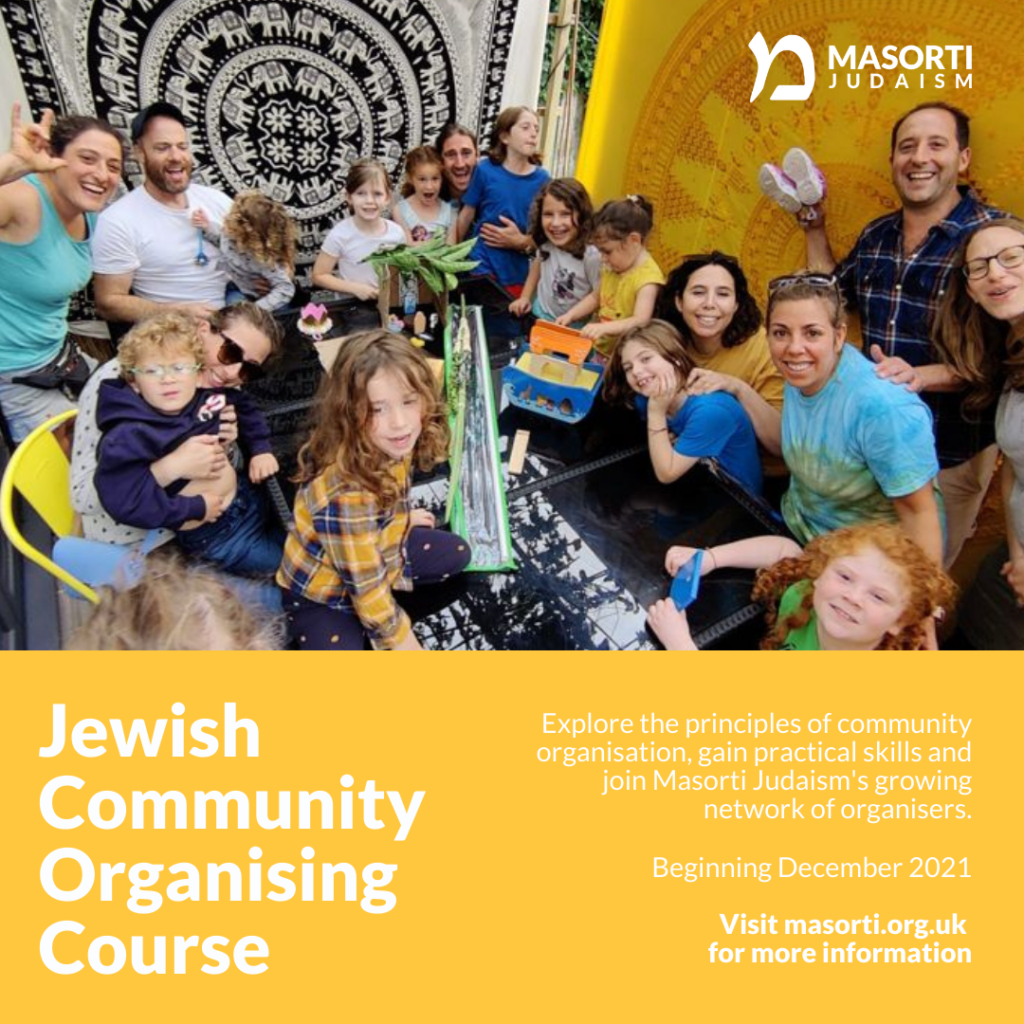 "This course has been revelatory. It has completely changed my community. We went from no structure, no leadership, and no direction, to forming committees, electing chairs, running a listening campaign and resolving a number of new directions for the group…. By empowering me with knowledge and skills and sharing those with others it felt organic and home grown." – Anna Sheinman, Ohel Mo'ed Community
Join the new cohort of Masorti's community leaders.
Across monthly sessions, we'll explore the principles of community organisation as well as the practical skills that have helped elevate and mobilise our growing network of Masorti organisers.
From getting your teeth into what it means to be a relational leader to gaining the tools to facilitate a well-run listening campaign, this course will skill you up, develop your ideas and provide an empowering space to grow as a community organiser.
The course will be facilitated by Rachel Sklan, our Deputy Chief Executive, who is an experienced trainer and coach in community leadership. She will be joined by specialist guest teachers for various units who will bring their unique experience and knowledge to the course.
Course Overview
Timings to be confirmed and are Covid-dependent.
Session One: Relational leadership
December 5th 2021, 9:30am – 12.30pm
Course Overview
Rapport and how to build it with anyone
Relational versus transactional community
Organising principles
Filters of communication
Session Two: Mapping your community
January 9th 2022, 9.30am – 12.30pm
Vision and purpose-led community
Effective one-to-ones
Who's who? Who do you need?
Logical levels of change
Identifying the 'issue'
Session Three: The power of groups
February 6th 2022, 9.30am – 12.30pm
Power Analysis
Identifying stakeholders
Creating a plan
Session Four: Project, Plan and Action: different ways of organising
March 6th 2022, 9.30am – 12.30pm
How to run a listening campaign
Identifying the issues
Different models of planning and effective project
Clear outcomes and how to build them
Session Five: Modelling excellence and leadership
April 3rd 2022, 9.30am – 12.30pm
Identifying my own challenges as a leader
Beliefs of excellence
Modelling good behaviour
Feedback- how to facilitate and how to give it
Session Six: Review and tweaking
May 1st 2022, 9.30am – 12.30pm
Changing course: creating constant sense of evaluation and adaptability
How to use modelling as a tool
Understanding your best practice
Session Seven: Looking outside our community: an introduction to political thinking
June 12th 2022, 9.30am – 12.30pm
A look at the work of Citizens UK
How politics plays a role in communal life
How engaged is your community in civil society?
How do you start lighting the embers?
Session Eight: Endings
July 10th 2022, 9.30 am – 12.30pm
Strategy going forward
My learning
My community goal