High Holy Days 5784 with Masorti
Date: 15/09/2023
Welcome in the new year with us! Scroll down to read about the various events and services offered across our community.
Shema Koleinu, The Masorti Prayer Skills Project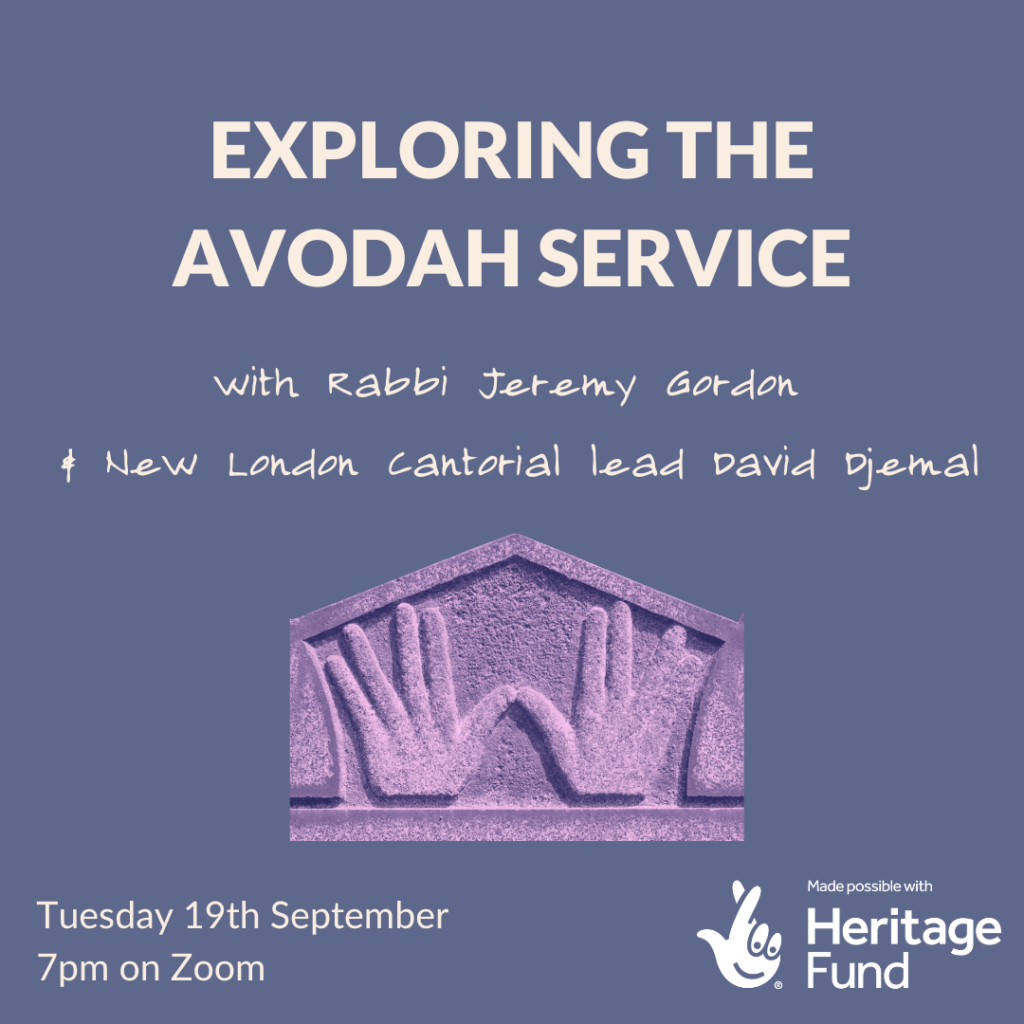 Learn with our leaders across the movement and explore the themes of our High Holy Days. From the specific music and liturgy of our services to considering what it really means to 'do' teshuvah, choose how you'd like to connect with this new year. You can still join us for the last session in this series.
Rabbi Jeremy Gordon & Cantorial Lead David Djemal and the Avodah Service
7pm, Tuesday 19th September, Online
In Temple times, at Yom Kippur, the High Priest would enter the Holy of Holies and recite the ineffable name of God. The people would prostrate themselves, blood was sprinkled. Today this ritual survives as a section of the Musaf prayer on Yom Kippur. It's beautiful, elegiac and amazingly tuneful. Join Rabbi Jeremy and David for a tour of the liturgy and history of this section of the Yom Kippur service and also an enquiry into the contemporary value of this ancient liturgy.
Click here to book your place.
The Havurah, Finchley
Join a thriving community of young people dedicated to creating a fulfilling and joyful Jewish journey. Activities include adult learning, kids activities and pot luck lunch on Rosh Hashanah day one, Kol Nidre on Yom Kippur and adult learning + family activities on Yom Kippur. Click here for more.
Kol Nefesh Masorti Synagogue, Edgware
As well as communal services throughout the holidays, Kol Nefesh is hosting a communal lunch meal on second day Rosh Hashana. For more events like this from Kol Nefesh, click here. As well as High Holy Day services, they are running their famous Bridging the Yamim Norai'im programme. Spend the Ten Days engaged in learning and reflection together. This year, the Ten Day programme will be on the theme of Humility – Anavah. Click here for more information. Most sessions this year will be in person, with a few on Zoom.
Leeds Masorti
Join Leeds Masorti for Rosh Hashanah day 2 service at 9.15 at the MAZCC & Yom Kippur services at 18:40 the MAZCC, from Kol Nidre to Neilah, lead this year by Leon Fenster. There will be children's services too. Click here for more information.
Mosaic Masorti, Stanmore
Mosaic Masorti are hosting High Holy Days services in Stanmore. If you are not a member of Mosaic and wish to attend our services as a guest, please contact the office ([email protected]) to obtain tickets.
New Essex Masorti Synagogue
New Essex Masorti will be hosting services on all festival days, including a bring and share lunch on Sunday 8th October. Please enquire with [email protected] to register and learn more.
New North London Synagogue, Finchley
Join New North London Synagogue for services throughout the High Holy Days, including streamed services which you can watch on their YouTube channel. Click here for instructions on how to switch on and leave your computer running in a halachic-friendly way over the chag.
New London Synagogue, St John's Wood
New London Synagogue is offering a variety of High Holy Day services. Celebrate Rosh Hashanah, Kol Nidre and Yom Kippur with New London. Services will be led by Rabbi Jeremy Gordon, Rabbi Natasha Mann and our two Cantorial Leads, David Djemal and Yoav Oved. There will also be children's services and an exploratory 2-hour service in the hall. Book your tickets here.
New Stoke Newington Masorti Shul
New Stoke Newington will be hosting services on all days of the festivals. If you would like to join us for services on the High Holy Days and are not a member please email: [email protected]
Ohel Mo'ed, Golders Green
Ohel Moed will have a series of Egalitarian peer-led services this year for Rosh Hashanah in Golders Green. To register, please click here.
Oxford Masorti
Click here to learn about services with the Oxford Masorti group.
SHEMA, Edgware & Borehamwood
Shema are hosting services and social activities throughout the chaggim. Click here to learn more.
St Albans Masorti Synagogue
SAMS are hosting services on all days of the festivals, as well as a communal break fast on Monday 25 September at SAMS synagogue. Please RSVP to [email protected]
If you have any further queries please do not hesitate to contact your local Masorti Synagogue, our community map can be found by clicking here.